Despite January and its general miserable air, reading is something I've actually managed to do this month, and largely enjoyed myself too. I finished off a couple books I'd started last year, reread a book I'm probably going to never stop reading, and finally got to a few I've been meaning to for ages. Prognosis is optimistic for 2022!
The Ones We're Meant to Find – Joan He
Synopsis: Cee woke up on the shores of an abandoned island three years ago with no idea how she got there. Now eighteen, she lives in a shack with an ageing android, and a single memory: she has a sister, and she has to escape to find her.
From the safety of the eco-city floating above Earth, now decimated by natural disasters, sixteen year-old Kasey mourns Cee whom she's sure is dead. She too wants to escape: the eco-city is meant to be a sanctuary for people who want to save the planet, but its inhabitants are willing to do anything for their refuge, even lie. Is Kasey ready to use technology to help Earth, even though it failed her sister?
Cee and Kasey think that what they know about each other and their world is true. Both are wrong.
I've actually reviewed this in full, so go here if you'd like to read that (spoiler-free as always).
In summary, I enjoyed this book a lot and found I read it quickly. It's marginally an environmental collapse dystopia, which I find myself reading more and more of these days, even though it's hardly just the realm of fiction anymore.
This is the first book I've read from the author, and I enjoyed the emotional depth and twists throughout, which felt real and refreshing. I also found I could appreciate the art of storytelling separately from the story, because it's crafted so well.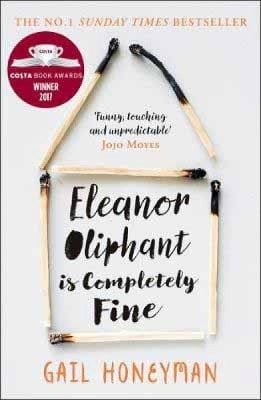 Eleanor Oliphant is Completely Fine
Synopsis: Eleanor Oliphant has learned how to survive – but not how to live.
She leads a simple life. She wears the same clothes to work every day, eats the same meal deal for lunch every day and buys the same two bottles of vodka to drink every weekend. Eleanor Oliphant is happy. Nothing is missing from her carefully timetabled life. Except, sometimes, everything.
One simple act of kindness is about to shatter the walls Eleanor has built around herself. Now she must learn how to navigate the world that everyone else seems to take for granted – whilst searching for the courage to face the dark corners she's avoided all her life. Change can be good. Change can be bad. But surely any change is better than… fine?
Ah this book breaks and heals you all at once, and kind of repeatedly throughout. The main character is Eleanor, who is living a very normal life, which has absolutely nothing in it. She has a fixed routine and she doesn't have any friends. Eleanor is detrimentally self-aware: she makes the right assessments about her life and comes to all the wrong conclusions, whether it's finding fault in herself rather than her circumstances, or declaring she's completely fine.
The loneliness of Eleanor's life is almost a third character in this book, but what's even more apparent is how brave Eleanor is. Obviously as you read, more of her quite traumatic childhood history is revealed, and despite everything, she keeps trying, mostly for other people. It's lovely to read, actually. This is the kind of book that makes you cry instead when good things happen.
The Four Winds – Kristin Hannah
Synopsis: Texas, 1934. Elsa Martinelli had finally found the life she'd yearned for. A family, a home and a livelihood on a farm on the Great Plains. But when drought threatens all she and her community hold dear, Elsa's world is shattered to the winds.
Fearful of the future, when Elsa wakes to find her husband has fled, she is forced to make the most agonizing decision of her life. Fight for the land she loves or take her beloved children, Loreda and Ant, west to California in search of a better life. Will it be the land of milk and honey? Or will their experience challenge every ounce of strength they possess?
Ah, another devastating book! I mean, this book is set amidst the American Depression, so perhaps that is to be expected. Despite that, it's just, such a remarkable tale of resilience. It's a really long story that gets into every crevice of feeling, explores the living costs of every event. It follows Elsa as she goes from a sheltered and ostracised young daughter of a wealthy family, to a farmer's wife, to a migrant to California, looking for work away from the Dust Bowl. She's really a character you cannot forget, probably the exact epitome of a strong woman, particularly so for the journey she takes to get there.
I don't want to spoil it too much, because this book really takes you on a journey. It's long. I listened to the audiobook (15 hours!), which was such a good choice, the accents and atmosphere the narrator creates are fantastic, and also helped me actually finish the book when I might not have, were I reading it. I got to the point where I was listening to it everywhere, and then I extremely missed it once I'd finished!
Black Sun – Rebecca Roanhorse
Synopsis: In the holy city of Tova the winter solstice is usually a time for celebration and renewal, but this year it coincides with a solar eclipse, a rare celestial event proscribed by the Sun Priest as an unbalancing of the world.
Meanwhile, a ship launches from a distant city bound for Tova and set to arrive on the solstice. The captain of the ship, Xiala, is a disgraced Teek whose song can calm the waters around her as easily as it can warp a man's mind. Her ship carries one passenger. Described as "harmless" the passenger, Serapio, is a young man, blind, scarred, and cloaked in destiny. As Xiala well knows, when a man is described as harmless, he usually ends up being a villain.
As soon as I started reading this book, I knew why it was shortlisted for the Hugo best novel prize. It's such a fascinating story. It may not seem particularly unique in fantasy, but it feels that way. There is something very addictive about it, possibly the countdown that begins from the very first chapter to an event we know will be the climax of the book. This is also the first of a trilogy, so the anticipation is built extremely well. I raced through this book!
The book has multiple POVs, which I know can be off-putting sometimes, but I found I enjoyed it in this book. Rather than taking you out of the story, each narrator switch just gave you a different side of the road to the 'convergence,' or eclipse, that the story builds towards.
The main characters are Serapio, a scarred, blind and somewhat eerie man, who has had a cruel childhood, leaving his home at last in service of a destiny he's been shaped into since he was a boy. He meets Xiala, who is a Took, the meaning of which is explained as the book progresses, when she is charged with ferrying him on her ship to the city of Tova, where Neranpa, the Sun Priest, is finding people are fighting the reforms she is attempting to make, and is being threatened by the Crow clan, of which the fourth narrative character, Okoa, is a son. Just as here, in the story their lives begin to intertwine as the book builds to the final act.
Assassin's Apprentice – Robin Hobb
Synopsis: Raised in the castle stables, only the company of the king's fool, the ragged children of the lower city and his unusual affinity with animals provide Fitz with any comfort.
To be useful to the crown, Fitz is trained as an assassin; and to use the traditional magic of the Farseer family. But his tutor, allied to another political faction, is determined to discredit, even kill him. Fitz must survive: for he may be destined to save the kingdom.
When I added this book to my Goodreads challenge, it informed me this was the third time I was reading it, which honestly feels like too little.
So, yes I'm reading this again. Perhaps I'll review this series fully one day, but here I can't say anything other than that I get completely hooked every time, and I highly recommend to any fantasy fans who somehow haven't read this series yet. Although there are many books in the Realm of the Elderlings series by this author, this first trilogy is the best, in my opinion.
I feel very accomplished having read five books, and so many of these were on my TBRs, too!
What have you read this month?