Ah, what a month. Non-fiction November is something I actively decided to take part in this year (albeit, very offline) and it meant I finally got a little bit through the huge backlog of non-fiction books I've been meaning to read. This was mostly split between memoirs and essay collections, although I should read some educational books too~
I have had a very sporadic couple months of posting (what, tf, happened to November??), because of having literally no time, but I've still been reading, so here are some (truly, this time), mini reviews.
Born a Crime – Trevor Noah
Synopsis: The compelling, inspiring, (often comic) coming-of-age story of Trevor Noah, set during the twilight of apartheid and the tumultuous days of freedom that followed.
Noah was born a crime, son of a white Swiss father and a black Xhosa mother, at a time when such a union was punishable by five years in prison. Living proof of his parents' indiscretion, Trevor was kept mostly indoors for the first years of his life, bound by the extreme and often absurd measures his mother took to hide him from a government that could, at any moment, take him away.
This is definitely one of those instances where an audiobook is the perfect format. Trevor Noah reads this with his characteristic humour and personality, and it's very entertaining throughout, consistently holding your attention even at the darker points of Trevor's life. It's not very long – about 8 hours – and I highly recommend, maybe particularly so if you haven't delved into audiobooks yet!
This memoir produce a very critical and clear-eyed insight into life in South Africa and the effects of apartheid. The title alludes to the fact that Trevor, being mixed-race, was not legally allowed to exist, and the difficulties this caused him, the weird experiences it gave him in a place where race and ethnicity was so firm it puts him into many stupid situations because of others' prejudice.
I also really enjoyed the parts of the book with his mother, such as the final chapter, which were all funny, sad, heartfelt. I think I could listen to a whole second book just about Patricia Noah!
My Thoughts Exactly – Lily Allen
Synopsis: So, this is me. Lily Allen. I am a woman. I am a mother. I was a wife. I drink. I have taken drugs. I have loved and been let down. I am a success and a failure. I am a songwriter. I am a singer. I am all these things and more. When women share their stories, loudly and clearly and honestly, things begin to change – for the better. This is my story.
I enjoyed this biography from former popstar Lily Allen a lot more than I thought I would. I don't have a habit of reading celebrity memoirs, so I'm not entirely sure why I picked this up, but it was interesting to read about Allen's life. I did feel the pacing was off – the beginning contained beautiful, lyrical prose which I felt wasn't recreated elsewhere – but it's understandable if the slower middle reflects a point in her life where the author felt trapped in a repeating cycle.
Lily Allen's life is a true series of ups and downs, and she writes frankly. You always know you're reading about someone's life, rather than just a piece of fiction, because every chapter has a weight to it that I think really showcases her sincerity in wanting to tell her story. I'd recommend this one if you are keen to read a celebrity memoir, though Lily Allen isn't really as famous now as she was in the 2000s.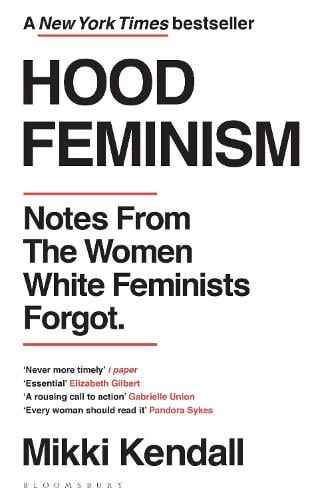 Hood Feminism – Mikki Kendall
Synopsis: All too often the focus of mainstream feminism is not on basic survival for the many, but on increasing privilege for the few. Meeting basic needs is a feminist issue. Food insecurity, the living wage and access to education are feminist issues. The fight against racism, ableism and transmisogyny are all feminist issues.
White feminists often fail to see how race, class, sexual orientation and disability intersect with gender. How can feminists stand in solidarity as a movement when there is a distinct likelihood that some women are oppressing others?
As the subtitle suggests, this is compiles 'Notes From the Women White Feminists Forgot.' I did think that meant a collection of essays, but rather this is a series of essays all from one author. I felt this did lead to quite a bit of repetition of arguments throughout the book, but on the other hand, the essays here expound on everything from eating disorders to 'The Fetishization of Fierce' to housing issues. Mostly, this focuses on where feminism fails Black American women, but it is constantly and deliberately intersectional, which is such a marked difference from most feminist writing that it's refreshing.
Reading this book is honestly essential for anyone who wants to be an intersectional feminist, and it really feels like a breath of fresh air, too, where a prominent feminist writer is considering things like cultural values, socioeconomic status, level of education, and how these are feminist issues. Mainstream feminism (or 'White Feminism,' with the caps), seems to focus on a very narrow window of problems, such as body image and pay gap.
Meanwhile, eating disorders in Black girls go undiagnosed, because 'it just doesn't happen,' or the labour of low-income women is touted as brave and voluntary instead of eliminating the class and poverty barriers they face (paraphrased). In the chapter Pretty for a…, the author talks about how 'it's easy to say beauty standards are superficial' when they apply to you, or the political nature of Black women's hair and how hair has been used as an exclusionary tool.
I learned a lot from this book, as much as I agreed with, and that's because the author really does go into depth about a whole host of issues, and specifically about how feminism works in the spaces she occupies.
This is Going to Hurt – Adam Kay
Synopsis: Welcome to 97-hour weeks. Welcome to life and death decisions. Welcome to a constant tsunami of bodily fluids. Welcome to earning less than the hospital parking meter. Wave goodbye to your friends and relationships… Welcome to the life of a junior doctor. Hilarious, horrifying and heartbreaking by turns, these diaries are everything you wanted to know – and more than a few things you didn't – about life on and off the hospital ward. And yes, it may leave a scar.
This book is a memoir of the author's time spent working as a junior doctor – a profession he is looking back on, having quit. Listening to it as an audiobook was a great way to experience the story, not only because, it being narrated by the author, his dry wit comes through very well, but also because it makes the events of the book more personal. The book progresses in a series of diary entries about life as a junior doctor. It covers everything – being overworked and underpaid, good and bad patients, the mismanagement of the NHS (the free-at-service health care system in the UK) and exploitation of doctors.
As it intends, it's a true look into what life as a junior doctor is like because, unless you yourself have worked as one, I don't think it's possible to understand. It's very insightful, often shockingly. It feels like you are being told things as you listen (and it's quite a short book too, which makes it easy to digest), that should be kept secret.
One of the things I kept coming back to when listening to this book was how spot-on the title is. Not just because the book is a memoir of the author's time as a young doctor in the NHS, but because the story itself, hurts. I mean, naturally, right? But some parts of the story are funny, some are ridiculous, and some are really quite upsetting. Despite that – or because of it – it's definitely worth a listen, especially because there aren't many books like this (presumably, most doctors are too busy to actually write books…)
Hey, a book a week! I mean really I read and listened to all four at once, but it's a nice week to book ratio.
What non-fiction books did you enjoy in November? Have you read any of these? What did you think? And I'd love some more non-fiction recs!