Now and again you read two similar books one after the other and thus, comparison is inevitable. I actually find that comparing books within genres is a great way to hone in on the stories you actually enjoy as well as differentiate how writing can be good/bad.
The last time I did this kind of review I was focused on dragons!
TLDR: Both of these books are fantasy stories that deal with empire. (They are also both published by Orbit, IDK if that's just their genre hype at the moment). Son of the Storm follows Danso, a student scholar who accidentally runs into secrets and people the ruling authorities of his city are trying to keep hidden. Meanwhile, The Unbroken's MC is Touraine, a soldier who was kidnapped by the empire as a child and has now been posted in the country she was kidnapped from. The overarching plots in both are about brewing rebellions and secrets beginning to unravel as the people in power lose control. The magic systems in both stories is also not fully explained in these books as it's one of the secrets, a hidden-away thing the protagonist discovers through the story. They are each interesting premises and the world building is done well.
Reviews
(Reading time: 5 mins)
Son of the Storm – Suyi Davies Okungbowa
Synopsis: In the city of Bassa, Danso is a clever scholar on the cusp of achieving greatness-only he doesn't want it. Instead, he prefers to chase forbidden stories about what lies outside the city walls. The Bassai elite claim there is nothing of interest. The city's immigrants are sworn to secrecy.
But when Danso stumbles across a warrior wielding magic that shouldn't exist, he's put on a collision course with Bassa's darkest secrets. Drawn into the city's hidden history, he sets out on a journey beyond its borders. But the chaos left in the wake of his discovery threatens to destroy the empire.
Publisher: Little, Brown
Pages: 480
I mentioned this book in my August wrap-up if you'd like a mini-review instead.
What I enjoyed most about this book was the dedication to world building. You can see as soon as you begin to read that the author has backstory and plans for this series. (There's a map, obvs). There are lots of competing cultures, histories and traditions for everything. This is actually also what I enjoyed least about the book (what can I say? I contradict myself). There are quite a lot of POV characters and although I definitely enjoyed reading all their POVs, sometimes I became tired by the constantly switching narrative. It helps with the world building, but the fallacy of so many characters is that you feel you are getting small glimpses into their thought processes rather than wholly coming to understand one character. Similarly, it gives an 'introduction' feel to too much of the book.
That said, I do enjoy the characters. Danso, arguably the main character, is a scholar student living in Basso, the main city of the empire. He occupies an in-between space in regards to the city's very fixed hierarchy: his father is Idu, of the city's highest caste, but his absent mother wasn't, according to his appearance, and so he is treated with both respect and disrespect. He doesn't feel like he belongs in Bassa, and so when the time comes, he finds it easy to get away from it.
I found Danso a perfectly fine character to read about, but not a fave by far. Admittedly, I found lots of the characters annoying at certain points. For example Esheme, Danso's 'intended,' starts off grating on my nerves, but when her POV isn't overshadowed by Danso, I absolutely loved her ambition, grey morality and accidental step into rebellion through Igan, an assassin-type figure.
When I first read this book, I did think that the empire plot felt a little tired, but I realise that this is a trope I can enjoy in fantasy (see the next book, or Memory of an Empire, or Raybearer), and the reason I didn't click with it in this book is that there just do not seem to be consequences for the ruling classes. The whole reason I'm reading about this plot in fiction is because consequences for empires in reality just don't exist!! And although there is definitely a range of characters, the setting often falls back into mere background setting for Danso, who conveniently benefits from it, to start his journey into becoming a hero or self-actualisation. There is kind of only one point where he comes face-to-face with his privilege, but it doesn't last very long. To be fair, I know this is just the first book, but personally I do just enjoy fast-paced stories more.
Although I had higher expectations for this book, I did actually enjoy it overall. The female characters were written excellently (always a point to mention when it is a male author). In fact, perhaps so excellently that I could read the whole sequel just focusing on Esheme and Igan?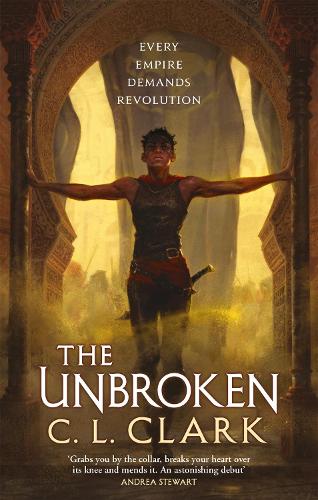 The Unbroken – C. L. Clark
Synopsis: Touraine is a soldier. Stolen as a child and raised to kill and die for the empire, her only loyalty is to her fellow conscripts. But now, her company has been sent back to her homeland to stop a rebellion, and the ties of blood may be stronger than she thought.
Luca needs a turncoat. Someone desperate enough to tiptoe the bayonet's edge between treason and orders. Someone who can sway the rebels toward peace, while Luca focuses on what really matters: getting her uncle off her throne.
Through assassinations and massacres, in bedrooms and war rooms, Touraine and Luca will haggle over the price of a nation. But some things aren't for sale.
Publisher: Little, Brown
Pages: 528
Most of the reviews I have seen for this book use words like 'bleak,' 'unflinching,' 'dark' and that's because, well, it really doesn't hold back. The setting for this inspiration is undeniable: French occupation of North Africa and the post-colonial literary influences are also emphatically present. It's really well-written, partly because it is very unpredictable at every step. It's often a hard book to read because of the violence and cruelty perpetrated towards the Qazalis, and I spent a lot of time on-edge, but I still think it is worth the read.
The main character, Touraine, is a soldier who was stolen by the Balladairan empire as a kid, one among many. She was trained to serve the empire and now, along with the rest of her abducted-children unit, has returned to Qazal, the country she was stolen from, as part of a peacekeeping effort to stop rebels…rebelling. The trip also includes the princess, Luca, who is the other POV character in this story.
Luca is an interesting character. The book does not at any point suggest we should sympathise with the Balladairans, rightly, and uses Luca to present their narrative. Just because she wants things to be better doesn't mean she is not complicit in the violence of colonisation. At no point does it stop suggesting she is just as bad, but it also presents her as a character trying to be kind despite herself and her upbringing. For Luca, the story is a journey about understanding others.
For Touraine, the story is a journey about understanding herself. In the beginning, she is very patriotic towards Balladaire: she literally starts off saving the life of Princess Luca, which sets the scene. However, Touraine is also a very pragmatist character. Her loyalty to Balladaire is practical: she does not want to be executed for treason, to try and eke out a living as someone against the rich and powerful empire, or to lose the respect she has been trying so hard to build. Touraine is trying to prove a point, but to whom? The story charts her journey of making several colossal mistakes all the while trying to protect the Sands – the name given to her fellow conscripts. She is such a realistic, human character, even when interacting with Luca, who I did not warm up to very well.
I actually think Touraine and Luca's relationship is the weakest point of the whole story. I can understand they care about each other and I liked the plot events that progressed from that, but I wasn't overly invested. This was surprising to my own self as I read it, because the personal, human aspect of this story is absolutely its standout factor. Every character who is introduced feels rich and real. Through this, and the relationship, the story dives into the intimately personal cost of rebellion.
It is also worth noting how much of this story focuses on women and their place in this situation. Not just because it is a sapphic romance, but because they are framed centrally in the 'historical' aspect of the fantasy too.
Are they worth reading? I think both are worth a try! It's nice to read so many different stories being told in fantasy these days.
Which did you prefer? I enjoyed The Unbroken more than Son of the Storm. This is for several reasons: it only switched between two POVs, rather than four or five; the main character was just more interesting to me; the supporting cast of characters was stronger. But ofc this is just personal preference.