Once again, I am cursed to never write short reviews. I hope you enjoy my thoughts below on some of the books I have read this month anyway. I did not finish a lot, because I keep interrupting myself and starting a new book out of excitement, but, obviously, I have thoughts on the ones I did!
FYI my reviews are spoiler-free as always.
The Martian – Andy Weir
Synopsis: After a dust storm nearly kills him and forces his crew to evacuate while thinking him dead, Mark finds himself stranded and completely alone with no way to even signal Earth that he's alive—and even if he could get word out, his supplies would be gone long before a rescue could arrive. But Mark isn't ready to give up yet.
I enjoyed this book. It was as funny as advertised, the build-up of suspense is great for every plot twist and most of all, the structure is brilliant. It begins with diary entries, conveying the first-person nightmare of Mark Watney, trapped on Mars and the full character voice. However, it also works very well to convey how alone Mark is.
When so much of space literature is concerned with aloneness vs infinite, it's quite an impressive difference to showcase all the scientists on Earth trying to help Mark survive, written in third-person, full of names and dialogue. But it also makes the stakes much higher, and you really feel caught up in every emotion. I think this is what makes it such a powerful story.
Despite that, it did actually take me a while to get through this book. I think it's because there is a lot of the story which, obviously, is Mark Watney talking to himself about the various ways he hopes to engineer his survival on Mars. And while a lot of that was very interesting to read and funny too, I also tend to zone out a bit at long, explanatory chunks of text in the story.
Shadow and Bone – Leigh Bardugo
Synopsis: Soldier. Summoner. Saint. Orphaned and expendable, Alina Starkov is a soldier who knows she may not survive her first trek across the Shadow Fold – a swath of unnatural darkness crawling with monsters. But when her regiment is attacked, Alina unleashes dormant magic not even she knew she possessed.
I was meant to read this back in May, and just…never did. Or rather, I did and it took me this long to finish. Look it just, wasn't very enjoyable for me. I'm still going to read the rest of the trilogy though, and I'll shelve my full thoughts for that bigger picture.
Age of Assassins, Blood of Assassins, King of Assassins – R. J. Barker
Synopsis: Girton Club-Foot, apprentice to the land's best assassin, still has much to learn about the art of taking lives. But his latest mission tasks Girton and his master with a far more difficult challenge: to save a life. Someone, or many someones, is trying to kill the heir to the throne, and it is up to Girton and his master to uncover the traitor and prevent the prince's murder.
I almost forgot I read these three separate books, mostly because I read trilogies like one large set and blur them all together in my mind. I enjoyed this series a lot! I have a proper review posted already if you'd like to check it out. It reminded me of Assassin's Apprentice, for obvious reasons, so you'd enjoy it if you liked that. However, I've also suddenly realised it reminded me of the TV show Merlin – anyone watched that? Because sorcery is cursed and evil, no other reason. And the books actually make sense, too. 😂
Ghosts – Dolly Alderton
Synopsis: Nina Dean has arrived at her early thirties as a successful food writer with loving friends and family, plus a new home and neighbourhood. When she meets Max, a beguiling romantic hero who tells her on date one that he's going to marry her, it feels like all is going to plan.
I have very mixed feelings about this book! First off, I absolutely couldn't read it. A little way into Chapter 1, I realised I wasn't enjoying it at all, so I switched to the audiobook (read by Holliday Grainger) and I much preferred that. It is not the kind of book where you need to focus on every single word, and there are many run-on sentences and tangents, but the serious parts are conveyed well in an appropriate tone, so this format works much better.
This was one of the books I wanted to read as part of my 'reading romance' series, although it's definitely more on the literary end of the genre. The thing about this category of romance is I feel they all have the same vibe, with nothing new to say, but that is where the magic might lie, because it may be retelling a familiar story, woman-meets-man, but it feels poignant anyway.
As the synopsis suggests, this story is a little about the protag getting ghosted by a man she is dating. However, the idea of 'ghosts' is carried on into every other aspect of her life too – a sudden childhood nostalgia, her dad's loss of memory, her friends' futures. And after we move into the second part of the story – after Nina has been ghosted, after we witness this horrifyingly captivating event we knew was coming – I find it gets much more enjoyable.
There are still moments I didn't love. For example, it has a very predictable ending (not great), but the emotional resonance of it is still there (very great). Or, Nina is emblematic of a type of feminism very specific to these sorts of books (which I find a bit wearying to read), however the book's message is still very feminist (which I like to read!).
Overall, I do think the book has many good moments – especially ones where Nina is more self-reflective, and the writing feels very profound – so I would recommend listening to it.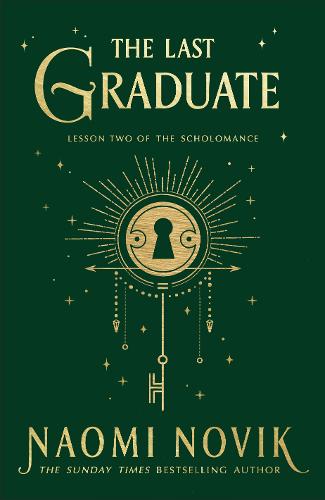 The Last Graduate – Naomi Novik
Synopsis: The dark school of magic has always done its best to devour its students, but now that El has reached her final year – and somehow won herself a handful of allies along the way – it's suddenly developed a very particular craving … For her.
I found this story enjoyable overall, and liked returning to this world. It is very similar, structure and pacing-wise, as the previous one. For example, the first 100 or so pages are pretty much just exposition. But, it's necessary, and adds to the world building, so that you get a complete and thorough view of the world. Plus, this is just how the author writes, so I would expect someone reading this to know that.
Again similarly to the previous book, this takes place across a whole year, and it is very well-paced for such a thing. Maybe I have just not read books set in schools that much recently, but I was surprised that I didn't even notice how smoothly time passes in the story. I think this is because the action is placed at good intervals throughout, and even so, the characters really keep this book moving.
The characters from the previous book are developed here, and new ones are added, along with the new information about the magic world. I won't say too much here because of spoilers, but I do think it is, overall, a good sequel.
I have actually read more than I had thought here, but I've also got lots of almost-finished stories! Also, I have – like last month – been reading lots of comics, which I will do a post on soon.
For next month, I have lots of non-fiction that I ought to finally make a dent on, having read almost none of it for a long time!