As I mentioned previously, I had a pretty slow reading month. I only read three books (I know, not even one a week!), however, I did get through these books pretty fast in two or three days. Which should, incidentally, have allowed me to read more…
I did not set out to write reviews for these three books (and I did try to keep them short…) but read on for my thoughts on them anyway!
Son of the Storm – Suyi Davies Okungbowa
Synopsis: In the city of Bassa, Danso is a clever scholar on the cusp of achieving greatness-only he doesn't want it. Instead, he prefers to chase forbidden stories about what lies outside the city walls. The Bassai elite claim there is nothing of interest. The city's immigrants are sworn to secrecy.
But when Danso stumbles across a warrior wielding magic that shouldn't exist, he's put on a collision course with Bassa's darkest secrets. Drawn into the city's hidden history, he sets out on a journey beyond its borders. But the chaos left in the wake of his discovery threatens to destroy the empire.
This is one of my recent paperback purchases, a new fantasy release. It's a story about kingdoms, secret magic, etc. etc., of the type that I have been reading a lot recently. The story is multi-narrative, which means you get a nice array of characters to explore the world with. This is useful, as there is a lot of world building!
The main bulk of this story is set around the city of Bassa, the central city of the empire, which is strictly segregated into castes. Danso, a protagonist, is both part of this Bassai elite and part not: his father is Idu, of the city's highest caste, but the identity of his mother is not. Thus, he occupies an in-between space. He doesn't feel he belongs, and rather than chasing belonging within Bassa, he looks elsewhere.
There is also Esheme, whose mother is a 'fixer' of sorts in the city with a fearsomely respected reputation. Esheme really grows on me as a character. Although I found her a little annoying at the beginning, I love the way this is explored into determination and ambition. Her character never changes, but she realises she is capable of more. Plus, we stop viewing her coloured with the perspective of Danso, the two of whom are engaged, or intended, in a very practical relationship, which means Esheme's own story comes to light.
There are other interesting characters dotted throughout, many of whom also get a chapter from their POV. As I said at the beginning, there is a lot of world building, and this array of narratives helps that. It does make the book feel too much like an introduction at many points, and I was keen to just get into the action, or skip a chapter to the POV I wanted. I also found that the plot of the story, about one evil empire, and the communities on the edges battling them, felt a little tired at several points. I found myself incredibly reluctant to continue reading about a society of inequality in the kinda vaguely cruel terms that it is presented, used more as a backdrop for Danso's awakening into himself, than giving any characters on the lower rungs of that society more than marginal POVs. Admittedly, there is a portion of the book where Danso comes face-to-face with his blind privilege, even where he hasn't viewed himself as such, but aside from this, I didn't feel like too much of the story had that much depth.
Saying that, I did enjoy the characters, particularly some of the side characters, such as Biemwense, an old woman who lives in the protectorate of Whudasha, or non-binary Igan, titled the Left Hand of the rebellion movement within Bassa, for their deadliness. And I am curious to see where the story goes after this, although reading the sequel probably isn't a priority. A bit more disappointing than my hopes were!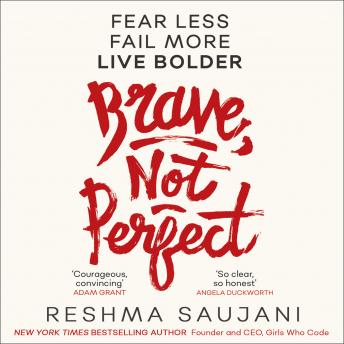 Brave Not Perfect – Reshma Saujani
Synopsis: 'We are raising our boys to be brave, but our girls to be perfect. And this is holding us back.'
Imagine if you lived without the fear of failure, without the fear of not measuring up. If you no longer felt the need to stifle your thoughts and swallow what you really want to say in order to please and appease others. If you could stop berating yourself mercilessly for human mistakes, let go of the guilt and the strangling pressure to be perfect, and just breathe. What if, in every decision you faced, you made the brave choice or took the bolder path. Would you be happier? Would you impact the world in the ways you dream you can? I believe the answer to both is yes.
Part memoir, part self-help, I have no idea what prompted me to listen to this audiobook, which is read by the author, except that I enjoyed a similar book previously, and it's length (around 4 hours), was nice and short. The author narrates it really well, although I can definitely tell she is a habitual speech-giver, with the pauses or deliberate inflections she gave to her narration! Reshma Saujani is a former high-flying lawyer, current CEO of Girls Who Code, and I really enjoyed her deliberations here, with her life experiences.
My favourite part of the book was the liberal use of anecdotes throughout, giving us stories about women forcing themselves to be perfect at the expense of true bravery to go after what they want, and Saujani's exploration in how 'the perfect girl' is coded into women from their childhood. There is lots of advice about becoming brave, mostly centring on the fact that bravery is a muscle that needs practise, which is not something I have thought about before. It also made me aware that I could certainly do with trying to be more brave than perfect. I also found that the diversity of experiences the author relates – as well as her own – shows this isn't one universal thing.
The part of the book that didn't interest me as much was the heavy lean on bravery in your career. That's not to say that doesn't interest me! But I think maybe the audience for this book skews slightly older than me, focused as it is on both a vaguely corporate career setting and motherhood troubles. I was also expecting more of a deep dive into how being brave versus being perfect affects men and women throughout their lives, but this is mostly restricted to the beginning of the book.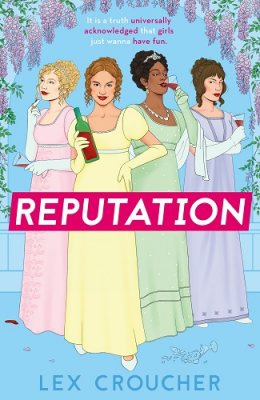 Reputation – Lex Croucher
Synopsis: Abandoned by her parents, middle-class Georgiana Ellers has moved to a new town to live with her dreary aunt and uncle. At a particularly dull party, she meets the enigmatic Frances Campbell, a wealthy member of the in-crowd who lives a life Georgiana couldn't have imagined in her wildest dreams.
Lonely and vulnerable, Georgiana falls in with Frances and her unfathomably rich, deeply improper friends. Georgiana is introduced to a new world: drunken debauchery, mysterious young men with strangely arresting hands, and the upper echelons of Regency society. But the price of entry to high society might just be higher than Georgiana is willing to pay …
There is a lot I enjoyed about this book, where Bridgerton (the TV show, I assume, having not read the books), is very much called to mind. It is a vaguely regency setting, with the protagonist, Georgiana, suddenly finding a wild life of drinking and partying awaits her with her new friend, Frances Campbell. If this doesn't sound historically accurate – it isn't. The setting is more of a costume, which doesn't bother me, although many may disagree. I quite enjoyed the modern sensibilities in a regency era fusion, and it was a fun, quick read.
The characters are pretty stereotypical: book-loving Georgiana, melancholy love interest Thomas, wild best friend Frances, etc. I have to admit that Georgiana can be quite an annoying protagonist as the book progresses (though sometimes this is pointed out in-story). I'm not a fan of how enjoying reading and scholarly pursuit is coded as being good and respectable, a lifestyle which Georgiana decides she prefers in the end after a brief holiday into Frances Campbell's world. There is a moment where the book seems about to fall into the Madonna-whore complex, oddly, considering the type of story, but it averts it. This would have been extremely problematic, especially because there are odd vibes with Frances and Thomas anyway. Both of these characters are mixed race: Frances' father, a Lord, brought her mother back from the Caribbean and married her, and we get only two lines that allude to this, one where Frances mentions slavery, and its never touched on again. Thomas' father, also a Lord, brought his mother back from India and married her, and she is dead before the novel starts.
These two WOC are largely absent from the story, and honestly, their inclusion feels quite tokenistic. The author doesn't understand the nuance of writing about characters of colour – wanting to both vaguely acknowledge historical tragedy towards them while forgetting about their heritage altogether unless she is describing how brown their skin is. Don't get me wrong – this absolutely isn't a huge part of the book, but this is a very valid critique for POC who notice this kind of thing and don't enjoy reading it. There is, to be fair, an attempt at rounded development for Frances and Thomas, although considering Georgiana is the protag, perhaps it's all we can expect.
One more thing about the book – its title doesn't particularly match the story, in my opinion. There is very little emphasis on reputation. Or if there is, I don't feel like anything will go wrong as a result of gaining a bad reputation among society. The last portion of the book deals with sexual assault, and I did find this is written really well, and sensitively, but the place setting is almost invisible in it. (The Mean Girls look on the cover may clue you in to more of what it is about.)
As always, these mini reviews did not stay very mini…
One thing I have read A LOT of this month is webcomics. I think I'll do a short post rounding up some of my faves. If you're not familiar, it's exactly as the name suggests: comics online. It's brilliant to see excellent artwork and funny stories straight from original creators, although they are mildly addictive.
Have you read any of these books? What have you enjoyed reading this month? Let me know!