I read five and a half books in July (don't worry, I'm not reviewing the unfinished book!), and me being me, I obviously have Thoughts on all of them. Read on for some mini-reviews!
Raybearer – Jordan Ifueko
Synopsis: Tarisai has always longed for the warmth of a family. She was raised in isolation by a mysterious, often absent mother known only as The Lady. The Lady sends her to the capital of the global empire of Aritsar to compete with other children to be chosen as one of the Crown Prince's Council of Eleven. If she's picked, she'll be joined with the other Council members through the Ray, a bond deeper than blood. That closeness is irresistible to Tarisai, who has always wanted to belong somewhere.
But The Lady has other ideas, including a magical wish that Tarisai is compelled to obey: kill the Crown Prince once she gains his trust.
Publisher: Hot Key Books
Pages: 496
I'm sure I'm reviewing this with impeccable timing, considering the sequel to this book is out next month.
The story is great primarily because of its characters. Tarisai, instructed to kill the Crown Prince, goes through a journey of discovering her identity as the story progresses. She has the power to see memories, of people and things, but her whole childhood has been a lonely one, kept isolated by everyone as part of her mother's plans. When Tarisai is taken to Aritsar, she discovers not only a whole new world, but the people in it — friends and a family. This excellent setup provides us with an excellent character: someone who is a strong woman that is powerful, yes, and possibly very 'chosen one', but also unambitious, sensitive, fearful. Tarisai – in fact every character – feels real and complex, and it's such a joy to read.
Then, of course, there is the worldbuilding, which is really icing on the cake. It's fun! The sequel will dive into it more, but even what is presented here, the magic systems and an empire that doesn't create forced homogenity, but rather focuses on how bad empire is, actually, and includes exactly the right amount of vaillainsing of these systems I think all books should have.
Although I didn't find many of the twists in the book surprising, I nonetheless found it a clever book for how the story is weaved. However, I absolutely could have read a much longer book. There are quite a few time skips, to allow Tarisai to become a woman rather than telling the whole book from the perspective of a child, but I actually would have enjoyed reading those missed moments, and being introduced to the characters gradually, rather than the slightly rushed method we get. It did feel like a missed opportunity, but on the other hand, maybe I am asking for too long a book that probably wouldn't hold the same market appeal. And even at the length it is at – impeccable vibes, really. (And every romantic relationship in the book is Excellent.)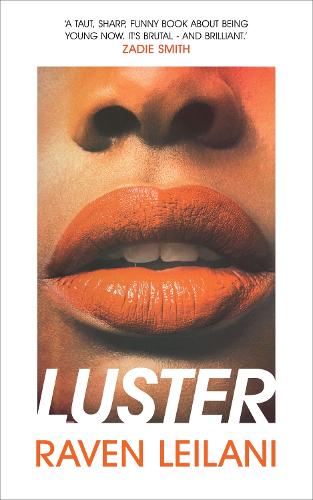 Luster – Raven Leilani
Synopsis: Edie is just trying to survive. She's messing up in her dead-end admin job in her all-white office, is sleeping with all the wrong men, and has failed at the only thing that meant anything to her, painting. No one seems to care that she doesn't really know what she's doing with her life beyond looking for her next hook-up.
And then she meets Eric, a white, middle-aged archivist with a suburban family, including a wife who has sort-of-agreed to an open marriage and an adopted black daughter who doesn't have a single person in her life who can show her how to do her hair.
As the synopsis here suggests, a lot is made of this book being only about a young black girl getting into a relationship with an older, married, white guy, or making a mess of her life. That's such a limiting way to look at it, as if the only plot here is sex. Barely two chapters in and this book hits you in the face with feeling. Edie's thinking about Eric and acknowledging that a settled, married life isn't what she is searching for, but sometimes "there are grey, anonymous" hours where, confronted with her mice-infested flat and its 23 year-old inherited wealth landlord, she wants the kind of peace of security that someone like Eric could bring. The novel is such a clear-eyed look into the murky waters of your 20s, and how its joyful and desperate in equal measure.
The bizarre route of Edie's life is just on the wrong side of funny. She moves into Eric's house while he isn't there, makes friends with his wife to the extent that she helps out with her job at the morgue, and intervenes in the life of his adopted daughter, noticing her as a black girl who has grown up surrounded only by white people. I also really liked the character of Aria, who is the only other black girl in Edie's office, and the way this almost-competitive relationship is portrayed, doing such a succinct job of explaining those work environments for POC from two different sides.
The language, and how rich it is, is definitely a highlight of this book. It's written with such intent it sometimes feels like a work of poetry.
You Deserve Each Other – Sarah Hogle
Synopsis: Meet Naomi and Nicholas: the Perfect Couple. Their glorious, lavish wedding is coming up in three short months . . . and they are utterly, miserably sick of each other. Unfortunately, whoever backs out first will end up bearing the brunt of the wedding bill. When Naomi finds out that Nicholas has been feigning contentment too, the two of them go head-to-head in a battle of sabotage, pranks, and all-out emotional warfare to see who can annoy the other into surrendering first.
I have to say, the funniest thing about this book was how dedicated Naomi and Nicholas are to regularly posting their perfect relationship onto Instagram even while they outright hate each other. That oddly funny action represents the humour in this book pretty well. I read the first part so quickly because the ridiculous actions of both characters just made me want to keep going. However, this is partnered by surprisingly emotional introspection, which definitely enhances the story, making it an exploration not of a failed couple but two people who are simply miscommunicating very badly.
It's definitely not a 'feel-good' romance, however, which I have seen it described as, bafflingly. Naomi and Nicholas are quite often pretty nasty to each other, and however it might end (this is a romance book: you may be able to guess), I'm not entirely sure where the 'feel-good' factor was.
In fact, I found the whole ending pretty boring. There are no huge plot twists or unpredictable events in this book, which is perfectly fine. But that also means any reader can guess what the ending will entail. Rather than stopping the story when the couple does begin to communicate, then, and leaving us with the potential of what can happen (i.e. trusting the reader), the ending is a slow tour to describe each step of their relationship in great detail. Personally, I would have preferred something a little less Happy Ever After, that focused on the two of them actively fixing the mistakes in their relationship. I mean, the writing, both funny and emotional, as well as the very basic character archetypes, certainly categorise it as a romcom. Why milk it til its dead?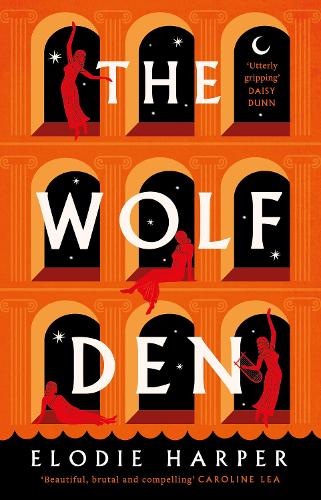 The Wolf Den – Elodie Harper
Synopsis: Amara was once a beloved daughter, until her father's death plunged her family into penury. Now she is a slave in Pompeii's infamous brothel, owned by a man she despises. Sharp, clever and resourceful, Amara is forced to hide her talents. For as a she-wolf, her only value lies in the desire she can stir in others. But Amara's spirit is far from broken.
TW: sexual assault
This book is set in Pompeii, but not about the eruption of Mount Vesuvius, which meant I often forgot it was set in Pompeii. I don't know why the author chose Pompeii for this setting in particular, but for me it gave the story character, in expressing how human, multi-layered and complex the characters are here, each with their own different backgrounds. It is a snapshot of a moment in society, and particularly those that time always forgets, as it follows Amara, a prostitute, and the other women at the brothel where she is a slave. The story frequently lays bare the cruelty of the Roman empire, its slavery, inequality and misogyny. This isn't a very happy book, as it's all about Amara and her sisters eking out a survival in whatever way they can.
I really enjoyed Amara's personality: how ruthless she is, and how aware she is that it is that very trait which will help her survive. She's cognisant of the true nature of the men around her as well as her new station in life after being forced away from her home in Athens, but she never loses her humanity, uncovering the hidden stories of the people around her and their struggles, too.
She Who Became the Sun – Shelley Parker-Chan
Synopsis: In a famine-stricken village on a dusty plain, a seer shows two children their fates. For a family's eighth-born son, there's greatness. For the second daughter, nothing.
In 1345, China lies restless under harsh Mongol rule. And when a bandit raid wipes out their home, the two children must somehow survive. Zhu Chongba despairs and gives in. But the girl resolves to overcome her destiny. So she takes her dead brother's identity and begins her journey.
The praise that this book has received is so well-deserved. It's a totally new type of story (to me), charting the rise of the first emperor of the Ming dynasty in China. But this is a genderbent story, with a 'what if that emperor was actually a woman' and alongside the impeccable historical storytelling it throws in a little bit of a fantasy element, which meshes very well with the story, surprisingly.
Zhu Chongba, the girl, is determined to be great. I mean, perhaps that is obvious, for anyone who is on the path to becoming Emperor, but the idea of fate is an integral part of this story. Before she became Zhu Chongba, she was just a nameless girl, and so at almost every step, she is afraid this girl who was fated to have nothing will be exposed, and the great fate she wholeheartedly believes in will be gone. One of my fave parts of the book is when she realises that if she does want greatness, hiding and evading will not grant her it anymore – she must claim it for her own.
The story of gender in this book is represented not only in Zhu Chongba, but another character, General Ouyang, whose family were killed by the Mongols when he was young, and he thus fights on their side. He is a eunuch, but Ouyang's transgressive gender is something he hates, seen constantly by those around him as too feminine when he desires exactly the opposite. I found Ouyang an excellent narrative foil for Zhu Chongba, and the connection they felt with each other was a very fun way to introduce them to each other even before plot events bring them together, as well as one of the many nods to the martial arts genre in Chinese literature.
OK one more thing to say! The fact that Zhu Chongba is a woman, in a society which seems to give her so little worth because of this, is reiterated constantly in the story. The plot itself makes use of the fact that she has life experience as a woman, thus allowing her to achieve wins. The nature of the narrative makes it easy to forget Zhu Chongba is a woman – how ironic! – when it switches to outsider POVs, for example, and upon returning to Zhu Chongba, you are startled to read 'she' again.
I really did try to keep the 'mini' element of these mini reviews in. Did I manage it?
I don't often do a monthly round-up of the books I have read, but I felt like I had so much to say on every single one of these books that I couldn't resist! Have you read any of these books? Do you plan to? Let me know!