When I have more time on my hands to read books, I realise that the type of books I read changes. Day to day, I stick to books I know will interest me, or audiobooks that fit seamlessly around whatever I'm doing. When it comes to other books, though, the ones that are aspirational additions to my TBR and will probably never actually get read, I need a bit more time.
As this week's Top Ten Tuesday prompt is: books I'd gladly throw into the ocean, I thought I would turn this on its head and think about books I would enjoy reading, if I had the time, no matter how much I am beginning to resent their presence on my reading list. I.E. if I was on a desert island and could finally do so!
Top Ten Tuesday is a weekly challenge hosted by That Artsy Reader Girl, where each week you write a list of ten particular books.
The Glass Bead Game – Hermann Hesse
Synopsis: In the remote Kingdom of Castalia, the scholars of the Twenty Third century play the Glass Bead Game. The elaborately coded game is a fusion of all human knowledge – of maths, music, philosophy, science, and art. Intrigued as a school boy, Joseph Knecht becomes consumed with mastering the game as an adult. As Knecht fulfils his life-long quest he must contend with unexpected dilemmas and the longing for a life beyond the ivory tower.
This came to my attention largely as being the book that inspired The Betrayals, although I have heard of it before. But it's such a Classic that I really don't think I could convince myself to get into it without a sufficient amount of empty time stretching out before me.
Battle Royale – Koushun Takami
Synopsis: As part of a ruthless program by the totalitarian government, a group of high school students are taken to a small isolated island with a map, food, and various weapons. Forced to wear special collars that explode when thy break a rule, they must fight each other for three days until only one remains.
I read a little, the first few pages, and even though it was very interesting, I had to pause and give myself a crash course on Japanese school systems, as some of the words in the translation confused me enough that I didn't know what was going on. But I will be finishing it one day, I'm actually very excited for that day to come.
The Land of Ingary Trilogy – Diana Wynne Jones
Synopsis (for Howl's Moving Castle): Sophie Hatter catches the unwelcome attention of the Witch of the Waste and is put under a spell. Deciding she has nothing more to lose, Sophie makes her way to the moving castle that hovers on the hills about Market Chipping. But the castle belongs to the dreaded Wizard Howl whose appetite, they say, is satisfied only by the souls of young girls…
What's that, Howl's Moving Castle is one of the best movies of all time? This is correct! And yet, I have not read the book it was based on, nor the other two in the trilogy about the place setting. Although I always mean to – and it's a short series! – it's again, another I'd need a dedicated time to actually get around to. I think partly that's because it is children's book series and I don't really enjoy reading that.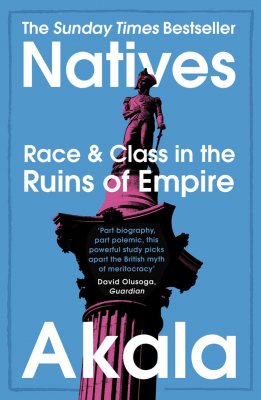 Natives – Akala
Synopsis: From the first time he was stopped and searched as a child, to the day he realised his mum was white, to his first encounters with racist teachers – race and class have shaped Akala's life and outlook. In this unique book he takes his own experiences and widens them out to look at the social, historical and political factors that have left us where we are today.
I have literally owned this book for ages, and I have wanted to read it ever since it was first released and just.. not done that? I do find it difficult to read non-fiction and often gravitate towards fiction if I have a chance to read a book, but this is one of many I have been meaning to get around to for such a long time.
Murderbot Diaries – Martha Wells
Synopsis: In a corporate dominated spacefaring future, planetary missions must be approved and supplied by the Company. Exploratory teams are accompanied by Company supplied security androids, for their own safety. On a distant planet, a team of scientists are conducting surface tests, shadowed by their Company-supplied 'droid – a self aware SecUnit that has hacked its own governor module, and refers to itself (though never out loud) as 'Murderbot.'
Probably the biggest reason I haven't got around to this series yet (the first of which is All Systems Red), is exactly because it's a series. I seriously enjoy reading all the books of a serious in one whole go, but unfortunately this kind of bingeing takes more time than clicking on Netflix. Excited to though, I know lots of bloggers love this series and I keep getting reminded when you all add it to lists!
The Namesake – Jhumpa Lahiri
Synopsis: When her grandmother learned of Ashima's pregnancy, she was particularly thrilled at the prospect of naming the family's first sahib. For now, the label on his hospital cot reads simply BABY BOY GANGULI. But as time passes and still no letter arrives from India, American bureaucracy takes over and demands that 'baby boy Ganguli' be given a name. Brought up as an Indian in suburban America, Gogol Ganguli soon finds himself itching to cast off his awkward name, just as he longs to leave behind the inherited values of his Bengali parents.
I read this author's Pultizer-prize winning short story collection, The Interpreter of Maladies, while studying English Lit, and I remember just how clear the writing was, succinct and direct. Although I do also very much want to read this book, it's the kind of book I'd like to read a bit more critically i.e. using my #lit knowledge, but I also know I'm not doing that any time soon.
The Priory of the Orange Tree
Synopsis: The House of Berethnet has ruled Inys for a thousand years. Still unwed, Queen Sabran the Ninth must conceive a daughter to protect her realm from destruction – but assassins are getting closer to her door. Ead Duryan is an outsider at court. Though she has risen to the position of lady-in-waiting, she is loyal to a hidden society of mages. Ead keeps a watchful eye on Sabran, secretly protecting her with forbidden magic. Across the dark sea, Tane has trained to be a dragonrider since she was a child, but is forced to make a choice that could see her life unravel. Meanwhile, the divided East and West refuse to parley, and forces of chaos are rising from their sleep.
Most of what I feel about this book is here, and I truly don't think I'm getting around to reading it until I find myself on a desert island (neither occasion I would mind at all). I have seen some mixed reviews and also I didn't… love? The Bone Season… so, there's that obstacle too.
House of Earth and Blood – Sarah J. Maas
Synopsis: Half-Fae, half-human Bryce Quinlan loves her life. Every night is a party and Bryce is going to savour all the pleasures Lunathion – also known as Crescent City – has to offer. But then a brutal murder shakes the very foundations of the city, and brings Bryce's world crashing down. Two years later, Bryce still haunts the city's most notorious nightclubs – but seeking only oblivion now. Then the murderer attacks again. And when an infamous Fallen angel, Hunt Athalar, is assigned to watch her every footstep, Bryce knows she can't forget any longer.
I have not been a huge fan of Maas' writing in the past, yet I do really want to give her adult series a try for all the good reviews I've seen about it. Am I going to anytime soon? Perhaps if I have a very long stretch of time and nothing else to do with it.
Antigone – Sophocles
Synopsis: When her dead brother is decreed a traitor, his body left unburied beyond the city walls, Antigone refuses to accept this most severe of punishments. Defying her uncle who governs, she dares to say 'No'. Forging ahead with a funeral alone, she places personal allegiance before politics, a tenacious act that will trigger a cycle of destruction.
I would, of course, be reading the translation…
Ever since reading Home Fire, which is based on this play, I have been wanting to read this. The reason ancient Athenian writing is still so celebrated today is because it's good, it has a lot to say!, we'll enjoy it. However, like the previous entry, this is one I'd like to dedicate more time to, and so unfortunately it's probably not happening any time soon.
The Little Friend – Donna Tartt
Synopsis: Twelve-year-old Harriet is doing her best to grow up, which is not easy as her mother is permanently on medication, her father has silently moved to another city, and her serene sister rarely notices anything. All of them are still suffering from the shocking and mysterious death of her brother Robin twelve years earlier, and it seems to Harriet that the family may never recover.
Like most people, I'm a huge fan of this author's writing. I have a physical copy of her first novel on my bookshelf, which I mostly obtained because it's a pretty version, if I'm being honest, and the size of it deters me every time. From what I have learned with Tartt's previous novels, I will absolutely attempt to read it all in one sitting, and the sensible part of me is simply deferring that to a moment when I have more time.
Until writing this list, it hadn't occured to me just how many books there are on my TBR only languishing for want of time. I'm beginning to wonder if I have too many hobbies, because clearly I'm not finding the time to do them all.
Then again, seeing ten of these books here has reminded me of my intentions to read them, so perhaps I'll do that, desert island included or no.
What books do you need a desert island to actually get around to reading? I'd love to see your list!