Who doesn't love a funny book? Although I don't read 'comedy' books, by which I mean non-fiction, nothing endears me to a book more than when it's just secretly hilarious. So this is a great topic for this week's TTT, which is: books that made you laugh out loud.
Top Ten Tuesday is a weekly challenge hosted by That Artsy Reader Girl, where each week you write a list of ten particular books.
As much as I think I enjoy funny books, I did find it difficult to find ten recent reads that I would say are objectively hilarious. As a result, I've got 5 books here that I've actually read and 5 that I would like to read.
Rivers of London – Ben Aaronovitch
Synopsis: My name is Peter Grant and until January I was just probationary constable in that mighty army for justice known to all right-thinking people as the Metropolitan Police Service (and as the Filth to everybody else). Then one night, in pursuance of a murder inquiry, I tried to take a witness statement from someone who was dead but disturbingly voluble, and that brought me to the attention of Inspector Nightingale, the last wizard in England.
This is a seriously underrated series, mostly because Peter, the protagonist, is a character with a very dry wit and a seriously odd way of viewing the world that constantly makes his adventures amusing to follow. It's a real-world fantasy, where the main character learns magic exists and so too do magical criminals. The premise alone!
Hitman Anders and the Meaning of It All – Jonas Jonasson
Synopsis: It's always awkward when five thousand kronor goes missing. When it happens at a certain grotty hotel in south Stockholm, it's particularly awkward because the money belongs to the hitman currently staying in room seven. Per Persson, the hotel receptionist, just wants to mind his own business, and preferably not get murdered. Johanna Kjellander, temporarily resident in room eight, is a priest without a vocation But right now she has two things at her disposal: an envelope containing five thousand kronor, and an excellent idea.
Although this was the author's third book, I actually read it first and had to go and reread the previous two (The Girl Who Saved the King of Sweden is brilliant and The Hundred Year-Old Man is also very funny). I wouldn't describe it as a laugh out loud kind of comedy, but the whole plot of the story is a nonsensical drama with far too many characters who have outrageous personalities, and it all makes for a very fun read.
The Cactus – Sarah Haywood
Synopsis: Family and colleagues find Susan Green prickly and hard to understand – but Susan makes perfect sense to herself. Age 45, she thinks her life is perfect. She has a London flat which is ideal for one; a steady job that suits her passion for logic; and a personal arrangement providing cultural and other, more intimate, benefits. Yet suddenly faced with the loss of her mother and, implausibly, with the possibility of becoming a mother herself, Susan's greatest fear is being realised: she is losing control.
This was much funnier than expected, mostly because of the POV character's deliberate obtuseness, and it's exactly the kind of slipped-in-sideways humour I enjoy.
May We Be Forgiven – A. M. Homes
Synopsis: Harry is a Richard Nixon scholar who leads a quiet, regular life; his brother George is a high-flying TV producer, with a murderous temper. They have been uneasy rivals since childhood. Then one day George loses control so extravagantly that he precipitates Harry into an entirely new life.
OK, this is very dark and serious in a lot of places, but it is also darkly humorous, again because of an oblivious narrator.
Discworld – Terry Pratchett
Synopsis: Somewhere on the frontier between thought and reality exists the Discworld, a parallel time and place which might sound and smell very much like our own, but which looks completely different. The Disc's very existence is about to be threatened by a strange new blight: the world's first tourist, upon whose survival rests the peace and prosperity of the land. Unfortunately, the person charged with maintaining that survival in the face of robbers, mercenaries and, well, Death, is a spectacularly inept wizard.
Literally every Discworld book I've read is absolutely hilarious, and I've only read about six, so I can't really pick one. I did really enjoy the first: The Colour of Magic, mostly because of poor Rincewind.
+ 5 on my TBR
You Deserve Each Other – Sarah Hogle
Synopsis: Their glorious, lavish wedding is coming up in three short months . . . and they are utterly, miserably sick of each other. Unfortunately, whoever backs out first will end up bearing the brunt of the wedding bill. When Naomi finds out that Nicholas has been feigning contentment too, the two of them go head-to-head in a battle of sabotage, pranks, and all-out emotional warfare to see who can annoy the other into surrendering first.
I was going to add this to my romance reads TBR, because the premise sounds so absurdly funny. I think I like my romance books as romcoms!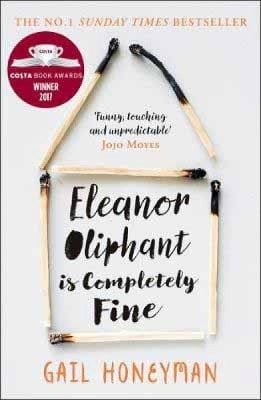 Eleanor Oliphant is Completely Fine – Gail Honeyman
Synopsis: Eleanor Oliphant has learned how to survive – but not how to live. She leads a simple life. She wears the same clothes to work every day, eats the same meal deal for lunch every day and buys the same two bottles of vodka to drink every weekend. Eleanor Oliphant is happy. Nothing is missing from her carefully timetabled life. Except, sometimes, everything. One simple act of kindness is about to shatter the walls Eleanor has built around herself.
This has been on my TBR for ages. Not going to lie, the synopsis sounds far more heart-wrenching than funny, but the reviews say otherwise. Also, it's described as 'darkly humorous' which seems to be a category I enjoy.
This is Going to Hurt – Adam Kay
Synopsis: By degrees hilarious and painfully honest, this is a no-holds barred account of one junior doctor's time on the frontline of the NHS. Welcome to 97-hour weeks. Welcome to life and death decisions. Welcome to a constant tsunami of bodily fluids. Welcome to earning less than the hospital parking meter. Wave goodbye to your friends and relationships… Welcome to the life of a junior doctor.
I think this book is going to be a bit more horrifying than humorous – the bestselling account of a junior doctor's life – but the author is a comedian, too! I'm planning to listen to the audiobook (narrated by the author).
The Worst Best Man – Mia Sosa
Synopsis: A wedding planner left at the altar? Yeah, the irony isn't lost on Carolina Santos, either. But despite that embarrassing blip from her past, Lina's offered an opportunity that could change her life. There's just one hitch… she has to collaborate with the best (make that worst) man from her own failed nuptials.
This is another romance I keep seeing on blogger fave lists. Again, romcoms crop up on my TBR, clearly I'm trying to tell myself something. The premise of this book seems a bit shaky, but I'm ready to give it a go nonetheless, for hilarious and convoluted shenanigans.
My Sister, the Serial Killer – Oyinkan Braithwaite
Synopsis: When Korede's dinner is interrupted one night by a distress call from her sister, Ayoola, she knows what's expected of her: bleach, rubber gloves, nerves of steel and a strong stomach. This'll be the third boyfriend Ayoola's dispatched in "self-defence" and the third mess that her lethal little sibling has left Korede to clear away. She should probably go to the police for the good of the menfolk of Nigeria, but she loves her sister and, as they say, family always comes first. Until, that is, Ayoola starts dating the doctor where Korede works as a nurse.
Despite what the title suggests, this book is frequently reviewed as very funny, and as it was shortlisted for the Women's Prize for Fiction in 2019, it's been on my TBR for a while. Read a book that can do both.
I usually get my funny-fix in the form of sitcoms and Netflix's array of stand-up specials, but there is something very comforting about a short, funny book. I'm excited to read all of these!
Also, I did not include them on this list, but a lot of the funniest books I've read are actually teen books? As in, books I read when I was an actual teenager, like the Percy Jackson or Skulduggery Pleasant series. (Maybe before they got 'dark' to cater to their older readers?) Clearly I need to regain that reading taste!
Do you enjoy funny books? Do you have any recommendations for me? Let me know!