Last year I finally indulged my curiosity and delved into the somewhat mystifying romance genre of books. I enjoyed it! I had a somewhat flat view of romance books previously, but reading a handful showed me there is a great range. Some are very literary and complex, some are plain funny, some are full of cliches but fun nonetheless & etc.
So I'm planning to read more this year. There are two more I didn't get to read last time, but I've included them on that linked post so I won't rewrite them. Aside from the one sequel on this list, these are all new authors I'm excited to discover.
Get A Life, Chloe Brown – Talia Hibbert
I'm actually more intrigued by the second book in this series, but I thought I'd start in order and see how it goes. The author has another coming out this year, too, so there will be plenty to read if I enjoy it!
Synopsis: Chloe Brown is a chronically ill computer geek with a goal, a plan and a list. After almost – but not quite – dying, she's come up with a list of directives to help her 'Get a Life'. But it's not easy being bad, even when you've written out step-by-step guidelines. What Chloe needs is a teacher, and she knows just the man for the job: Redford 'Red' Morgan.
China Rich Girlfriend – Kevin Kwan
I need to know what happens after Crazy Rich Asians! I'm eager for some solved mysteries and to read more about Nick's wonderful mother.
Synopsis: It's the eve of Rachel Chu's wedding, and she should be over the moon. She has a flawless oval-cut diamond, a wedding dress she loves, and a fiance willing to give up one of the biggest fortunes in Asia in order to marry her. Still, Rachel mourns the fact that her birth father, a man she never knew, won't be there to walk her down the aisle.
The Kiss Quotient – Helen Huang
I know this is a fan fave series, and I'm also very intrigued by it. I love that it focuses on neurodivergent women for each book in the series.
Synopsis: It's high time for Stella Lane to settle down and find a husband – or so her mother tells her. This is no easy task for a wealthy, successful woman like Stella, who also happens to have Asperger's. Analyzing data is easy; handling the awkwardness of one-on-one dates is hard. To overcome her lack of dating experience, Stella decides to hire a male escort to teach her how to be a good girlfriend.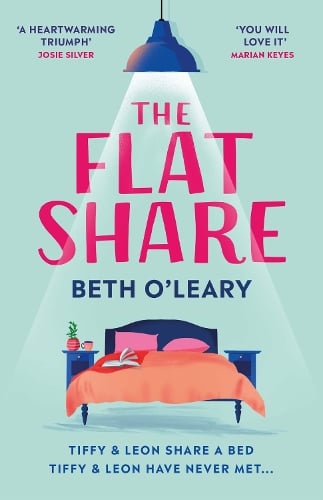 The Flatshare – Beth O'Leary
I was going to read this in my last round but I swapped it out, so now it's regained a place on the list. I know this author is very well-loved by fans of the romance genre so I have high expectations!
Synopsis: Tiffy Moore needs a cheap flat, and fast. Leon Twomey works nights and needs cash. Their friends think they're crazy, but it's the perfect solution: Leon occupies the one-bed flat while Tiffy's at work in the day, and she has the run of the place the rest of the time.
Radiance – Grace Draven
I came across this book on a Goodreads list and I'm fascinated. It's nice to get a bit of a fantasy/romance mix in the list, and I'm fascinated by the very premise of this.
Synopsis: Brishen Khaskem, prince of the Kai, has lived content as the nonessential spare heir to a throne secured many times over. A trade and political alliance between the human kingdom of Gaur and the Kai kingdom of Bast-Haradis requires that he marry a Gauri woman to seal the treaty. Always a dutiful son, Brishen agrees to the marriage and discovers his bride is as ugly as he expected and more beautiful than he could have imagined.
I discovered many great books through reading romance books last year, so I'm excited to do the same again. Whether or not I ever manage to read that author again is a whole other thing! But it's nice to have them on my radar.
What romance books are you planning on reading this year? Do you have any recs for me?