The Reading Women Challenge encourages you to explore women's writing, reading each previous winner of the Women's Prize for Fiction. Find out more here.
This month I read books gathered by the theme of 'love,' which is absolutely the focus of all three. Each book utilises multiple narrators not only to give you all sides of the story, but to display exactly how many different types of love there are. Although there was an exploration here of familial and platonic love, the driving force of all three stories was romantic love.
Reviews
An American Marriage – Tayari Jones (2019 winner)
Synopsis: Newlyweds Celestial and Roy are the embodiment of the American Dream. He is a young executive, and she is an artist on the brink of an exciting career. Until one day they are ripped apart by circumstances neither could have imagined. Roy is arrested and sentenced to twelve years for a crime Celestial knows he didn't commit.
Publisher: Oneworld Publications
Pages: 336
This story is about the before and the after of an innocent man going to prison. The before and after of a marriage. It does not begin and end with either of those two things, but it makes sure you know they are plot points. And yet, not the entire plot. It really emphasises the jarring effect imprisonment can have.
The story is told through a number of different narratives, split into parts. It begins with Roy, speaking about himself and his meeting with Celestial, and all through this you know he is going to be arrested for a crime he did not commit. Roy tells his narrative in the present tense, even though he is speaking about the past. This makes the past seem even further away – a distant series of events – but it also demonstrates the incomparable way Jones builds tension throughout the novel, here and at later points. Ostensibly, you already know the main event: Roy going to prison. And yet you still fear it. You already know that Roy will marry Celestial, yet you still await it. It really reflects a lifetime on-edge, never knowing what's around the corner and fearing the unpredictability.
The U.S. has one of the highest rates of incarceration in the world, with a disparity in the amount of African Americans who are imprisoned. Wrongful convictions are also a problem, and I think this story really explains well how racism is absolutely structural, beginning with the police and continuing into the courts. That Roy is innocent is never questioned in the novel, but he also mentions frequently that in the end it does not matter: through this event, he becomes another statistic, anything he was building in his life suddenly and violently halted. Roy is imprisoned because of a sexual assault claim, and one of the things I find interesting about this story is the race of the woman who accuses him is never specified. As a reader, we are left to draw our own conclusions, and the conclusions you draw can be telling.
The story is told through the POV of three characters: Roy, his wife Celestial, and her friend Andre. I enjoyed the switching narrative as it gave a full account of the relationship that is at the centre of this novel. There is also a short epistolary section, focusing on letters Roy and Celestial exchange while he is in prison, and this section gives some of the most potent quotes about love that are rife throughout this book. "Invisibly, it makes a place in your body, rerouting all your blood vessels, throbbing right alongside your heart. When it's gone, nothing is whole again."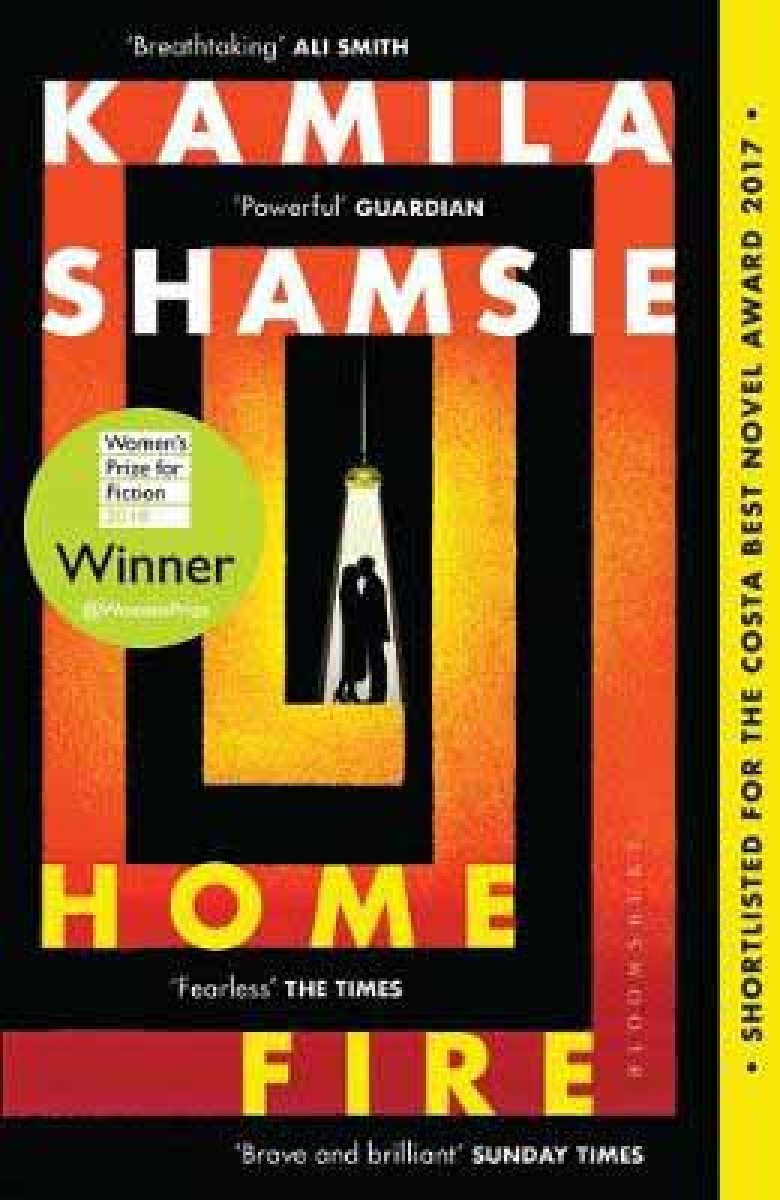 Home Fire – Kamila Shamsie (2018 winner)
Synopsis: Isma is free. After years spent raising her twin siblings in the wake of their mother's death, she is finally studying in America, resuming a dream long deferred. But she can't stop worrying about Aneeka, her beautiful, headstrong sister back in London.
Publisher: Bloomsbury
Pages: 288
Home Fire is a reworking of the tale of Antigone, a Greek tragedy. It is not necessary to know the plot of Antigone, but I think delving into it after you have read this book really emphasises Shamsie's skill in recreating the tale, matching up characters and their fates. Isma, for example, as Ismene. Aneeka as Antigone herself. In this modern day version, the enemy is terrorism. It has affected the life of Isma, who is the first narrator, and we see how it impacts the life of all the following narrators too: her sister Aneeka, Aneeka's twin, Aneeka's lover, and his father, a politician. The unfolding of this story through each of these different POVs really portrays in detail how everybody not only perceives love differently, but in the various ways it matters.
One of the most striking things about this book is how well it reflects the genre of tragedy. From the very beginning, you understand the impossibility of a happy ending, exactly because of the subject matter. How can there be a happy ending when its characters are doing everything wrong? This book deals with a clash of all different sorts of things: family, religion, society, duty. Each character chooses one that is the most important to them. Is this where the tragedy lies, because of a lack of compromise? Or is that treated as bravery? Shamsie makes no decisions – as a reader, you are simply given the story as it is, and we are expected to decide everything for ourselves.
The story is told through the narration of five different characters, and I really enjoyed the way this is ordered, with each character getting one part only. A lot is given to the use of an outsider POV, i,e. events occur that do not include the POV character, and so it helps us feel more connected as a reader, despite the foreignness of everything going on. Love is definitely the main theme here — love that is bad, forbidden, love that cannot be helped. It drives every single one of the characters, to actions that are good or bad.
As in An American Marriage, here we are told about lots of different types of love, but I think one of the excellent explanations for how it works is this line, from Isma, about her sister: "only the only sister's steady heartbeat could teach the younger one;s frantic heart how to quiet." Love in Home Fire is about obligation, and within that there are burdens the characters must choose whether or not to bear.
The Idea of Perfection – Kate Grenville (2001 winner)
Synopsis: Harley is in Karakarook to foster 'Heritage', and Douglas is there to pull down the quaint old Bent Bridge. From day one, they're on a collison course. But out of this unpromising conjunction of opposites, something unexpected happens: sometimes even better than perfection.
Publisher: Pan Macmillan
Pages: 416
Set in a small rural town in Australia, this book follows the relationship between two visitors: Harley Savage, who has been married three times and has now given up on the idea, and Douglas Cheeseman, recently divorced. Both of these characters are cognisant of their discomfort in society in a way that creates multiple interactions that are delightfully awkward, as they attempt to put their best faces forwards towards the new town they are in – and towards each other. Their position as outsiders in the town is really central to this story, because it allows us to understand the major role constructed identity has within ourselves. It also exemplifies the title – they are trying to be perfect. The fun of this novel, then, is that they repeatedly fail to be.
The story is told through three different narratives: Harley, who has come to the town to set up a museum, Douglas, who has come to demolish a bridge, and Felicity, a resident. At first, I was unsure why Felicity's narration was included. She does not seem essential to Harley and Douglas' stories; but eventually you realise she is a foil. Felicity is obsessed with perfection, from a spotless home to a face entirely free of wrinkles. She is also captivated by Alfred Chang, the only Chinese man in town, who she is quite casually racist towards even while she thinks is obsessed with her. Alfred Chang is himself shown as a flawed person who is a meaningful part of the town community, and unlike the other characters, not attempting to hide who he is. He is also, however, the only person of this four not to get a narrative. I do not think his POV could actually add anything to Harley and Douglas' story, but its certainly noticeable that its missing.
I enjoy the way love in this story is not entirely focused outwards. In fact, in this strive for perfection, we learn far more about the characters because of their internal monologues. The setting – a small place where everybody knows everybody – is also essential to this. Descriptions of nature often interrupt the dialogue: "the afternoon went on and on, sun pouring down blankly." This makes you feel absolutely stuck in the story in a way I wouldn't have expected without easy conversation. You get an intense idea of both the Australian heat and the way that all of these characters are incredibly awkward people becoming increasingly more flustered as what they want to say never comes out of their mouths. It feels very truthful, and I think that's a good depiction of love in general in this book. There's nothing fairy tale about it, but you understand that it is real.
One other thing. Harley, from her very first arrival in the town, is followed around by a dog that she is intent she does not want to love, and really, what better way to express someone opening themselves up than slowly watching a character love the dog as much as the reader does? (i.e. me, I love the dog).
These three reviews got longer than I thought! But I really enjoyed this month's books. There is something so simple about all of these stories, despite that none of them are simple at all, and I enjoyed the ways each of these three writers tackled their different subject matter. The lyricism present here really felt unmatched within the books I have read so far, but maybe that's just because quotes about people loving each other are lovely to read!
Next month I hope to read books that are about siblings.
Here's what I'll be reading:
May We Be Forgiven – A. M. Homes (2013 winner)
A Girl is a Half-Formed Thing – Eimear McBride (2014 winner)
A Spell of Winter – Helen Dunmore (1996 winner)
Check out my Reading Women Challenge reviews for May and follow my blog to be notified when I post the next review!