Podcasts and I have a very defined understanding. While I can do nothing else as I read, I cannot do nothing else while I listen. This means my allocated podcast time was usually when I had no choice but to listen i.e. commuting.
What that means for this whole quarantine period is that I've mostly stopped listening to podcasts. However, there are a handful I do make an effort to listen to – usually while cooking – because the content is interesting, but also because they are continuing to release new episodes right now.
So behold a list!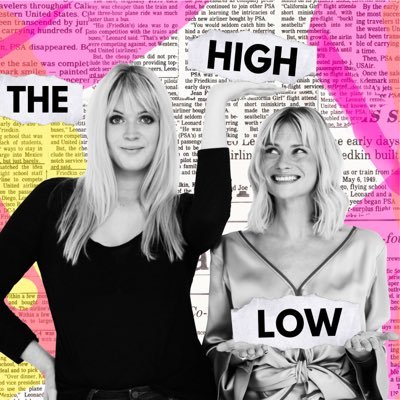 The High/Low
This is probably one of my favourite podcasts, and not just within books. As the name suggests, it covers a wide spectrum of culture, meaning this is great if you want to keep up with both pop culture and politics – as well as books, of course. The chat between presenters Pandora Sykes and Dolly Alderton is both thought-provoking and funny, and they are very on-top of the book industry which makes it easy to feel excited about it as a whole.
Book talk is incredibly wide-ranging, from new releases, basklisted books, books that are in the limelight now because of adaptations, books making the social media rounds and etc. You're definitely going away with a reading list after listening to this – not just books but also articles and essays to check out.
Pros: The sprinklings of pop culture not only make it more relatable, but less dry than many other book podcasts, I find, which can err on the side of too literary.
Cons: This podcast is usually an hour and a half long, which. That's long. I usually never end up listening to the final 20 minutes because my attention cannot last that long!
Fave recent episode: Are your book shelves a reflection of your character or your curiosity? (May 5th). Such an interesting question!
Poem of the Day
This podcast by Poetry Foundation is the easiest listen ever. Each day, you listen to a poem. That's it! Sometimes it's coupled with a short introduction by the writer, sometimes you just dive right in. This makes for episodes that are under one or two minutes, so incredibly listen-able.
Pros: An excellent way to hear new poetry, and especially inspiring if you like to write.
Cons: Context is not always included, but sometimes you need it. Also there is not a lot of information given in the show notes, such as the poem was published, for example.
Fave recent episode: Perhaps the World Ends Here by Joy Harjo (May 8th). A poem about the life of a kitchen table, and the humanity it witnesses!
All the Books
This is one of Book Riot's one million podcast offerings. This one is a weekly show that switches between two formats. One week, two presenters pick a range of upcoming releases to read and review, and give us a quick summary into the books. This is usually a 45 minute show. In the intervening weeks, the episode is a ten-minutes chat about back-listed books.
I wasn't sure about this at the start, due to the switching between subjects, and that if you prefer one show, it's actually fortnightly. However, you will receive so many book recommendations from this podcast that it actually works out well.
Pros: I enjoy hearing about books I wouldn't usually gravitate towards, and even if I won't add any to my TBR, it's fun knowing what's out there.
Cons: Sometimes you may find no books in the podcast interest you, which is kind of a bummer.
Fave recent episode: New Releases for May 12th. Lots of funny talk about mystery novels in this episode, which was fun as I literally never read any!
The History of Literature
This one is for the lit nerds. It does what it says in the title: delving into the history of literature. Not as a broad concept, but as smaller, localised points in time and how society in that period affected its literature. I'm pretty new to this podcast, having discovered it in lockdown actually, and the massive amount of previous episodes on almost any topic imaginable really makes me excited to listen.
It's presented by Jacke Wilson, who has an excellent radio voice and often takes tangentially-related tangents that only add to the fun of this show if you ask me.
Pros: The explanation given in each episode is fantastic. Don't worry if you don't know anything about a particular writer – it's all explained easily.
Cons: The episodes are between one to one and a half hours. Although I'm not actually complaining about that, because I think every moment is needed!, I do find this means I have to specifically find time to listen to this podcast, as it's not one you can tune in and out of! Also, it's twice weekly which is… a lot of content.
Fave recent episode: The episode England vs France (May 11th), really made me laugh, but the sheer amount of education I had in this Thursday's Baldwin vs Faulker episode (thanks for not teaching me half of any of that, education!) was just mega and it's a three-part series so I've more to look forward to next week!
I actually think it's very impressive I'm tuning into four whole podcasts.
Are you still getting your book podcasts fix? What are some of your faves? I'd love to hear your thoughts!